Norwegian Recon Team Competition 2013 -
SAN posten/Medic check point

Elvegårdsmoen i Bjerkvik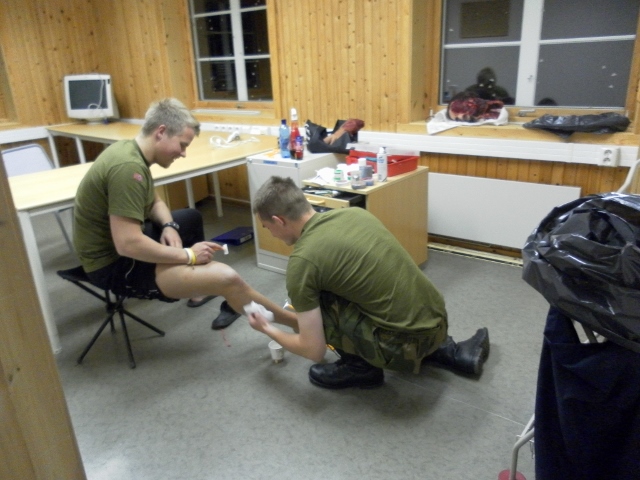 De to HV ungdommene fra HV16 gjør noe som de nok ikke hadde ventet - nemlig barbere leggen sin. Det ble mye latter av dette og morsomme replikker.
The two Home Guard youth from HV16 doing something they never thought they would do - namely shave their leg. Much fun and comments on this.

Her begynner alvoret. Eksplosjonsskaden begynner å ta form.
The serious part starts. An explotion inury is taking form.
En av Recon Team Competition "veteranene", ferdig med sin "eksplosjons skade".
One of the Recon TEam Competition's "veteran" with a finished "explotion injury."

I og med vi hadde to markørteam måtte den samme skade lages på hvert par. Så er de som var så uheldige å få eksplosjonen inn fra høyre med resultat av opprevet ansikt og brannsår på halsen.
As we had two sets of casualties team. I had to make two sets of the different injuries.
Åpent legg brudd med avriving av huden samt et ankelbrudd nederst.
Open fracture in the leg with the skin ripped open and an ankel fracture at the bottom.
Skaden etter 6-7 gjennomganger.
The injury after 6-7 teams had been through here.

Så er vi i gang med et team på SAN posten. Then we are "on the go" with a team on the Medic check point.

(c) All photos U.Gran Skadesminke
Tilbake til Diverse
Back to misc.